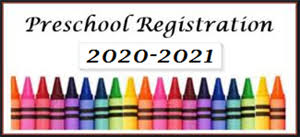 A registration fee of $100 is due at the time of registration.  A one-time activity and supply fee of $130 (refundable – prorated) is due with the first tuition payment (September).
2020-2021 school year tuition:
3 Days a Week: $325 per month ($2,925 total for the 9 month school year)
4 Days a Week: $405 per month ($3,645 total for the 9 month school year)
We offer a courtesy 10% discount for the second child enrolled.
Registration Instuctions for 2020-21
Please read the instructions for registration carefully. Registration opens for the 2020-2021 school year:
January 13, 2020 – January 23, 2020 for church members, current students and families
January 29, 2020  for new students
Please contact us about availability and wait lists.
Registration Letter for 2020-21
Application for Admission (for new and returning students)
Health Form (required for all 1st time students before attending 1st day of school)